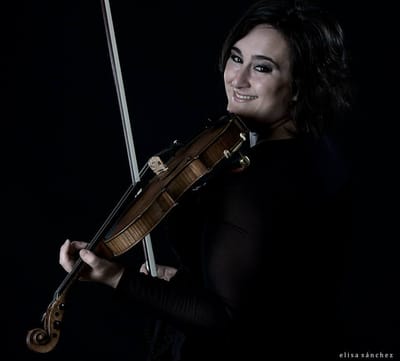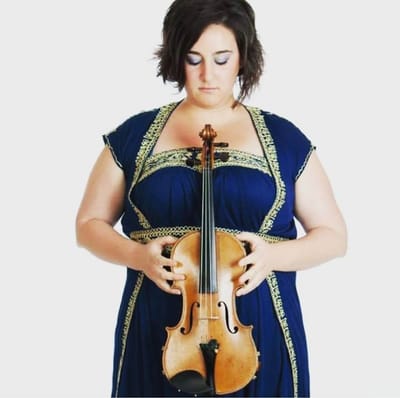 Lara Sansón Mora is a Spanish violinist, born in Cádiz in 1987.
She started her musical studies at the age of 9 and she has, ever since, travelled and performed with many orchestras, ensembles and chamber music groups around the world.
Her musical studies began in Seville (Spain) to then continue in Madrid (Spain), later in the well-known Jacob's School of Music, at Indiana University (USA) and then obtaining a Master's in Chamber Music in the École Normale Supérieure de Musique Alfred Cortot, (Paris, France).
Finalist in the IV edition of the Spanish Talent Show "Tierra de Talento", she currently is the concertmaster of the Orquesta Bética de Sevilla (Seville, Spain), under the direction of Michael Thomas, work that she balances with her concertmaster position in the first Spanish Musical production "El Médico, El Musical" (Madrid, Spain).
Her orchestral experience includes having collaborated with symphony orchestras and such as the
National Orchestra of Spain
(ONE) ,
Royal Symphony Orchestra of Seville
(ROSS),
Granada Symphony Orchestra
(OCG),
Portimao Symphony Orchestra
(Portugal), Antonio Banderas'
Orquesta Sinfónica Pop del Soho
, performing in renowned halls such as the Berlin's Philharmonie and Philharmonie de Paris; Barenboim's West-Eastern Divan Orchestra, Sevilla's Youth Baroque Ensemble under the direction of Enrico Onofri, and she was a member of the
Bilbao Orchestra Sinfonikoa
(Bilbao, Spain) for two seasons.
In the field of chamber music, she worked with different groups such as Zahir Ensemble, a contemporary music ensemble, performing the premiere of Philip Glass' opera The Fall of the House of Usher in Spain and the Elan String Quartet, performing in countries such as USA, Canada, Greece, Italy, Brazil, Argentina, Perú, Australia and New Zealand, on board several Celebrity Cruises' luxury vessels.
Performing both as a soloist as well as in chamber music groups and orchestras, she has performed in festivals and halls such as Salle Alfred Cortot, (Paris, France), Festival Solidale International (Como, Italy), Festival Yèvre-le-Châtel (France), Festival Noches de San Pedro and Espacio Turina (Seville, Spain), Círculo de Bellas Artes and Auditorio Nacional (Madrid, Spain), some of which have been broadcasted in the Spanish National Radio and Television.
As a soloist she has performed with orchestras such as Orquesta Bética de Cámara (Seville, Spain) Camerata del Gran Teatro Falla (Cádiz, Spain), with the Maestro Álvarez Beigbeder Orchestra in the Eurochestries Festival (Slovaquia) and Le Concert de M. de Saint-George (Paris, France), and in the closing concert of the 38th annual Festival of New Music in the School of Music of Ball State University (IN, EEUU).
She has worked with a number of teachers and conductors such as Mauricio Fuks, Enrico Onofri, Alfredo García Serrano, Pedro Gandía, Kevork Mardirossian, Laura Klugherz, Alejandro Tuñón, Vadim Brodsky, Serguey Fatkoulin, Michael Thomas, Manuel Hernández Silva, Erik Nielsen, Chantal De Buchy and the trio Pasquier-Pidoux-Pennetier among others.
Her main professors being Alfredo García Serrano and Mauricio Fuks.